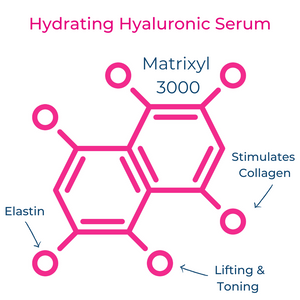 The Benefits of Matrixyl 3000
Matrixyl 3000 is a type of synthetic peptide used in skin care for its ability to stimulate collagen production, which results in anti-aging effects.
The Role of Peptides:
Without Matrikines and other peptides, the skin will start to lose firmness. Over time, this results in the appearance of wrinkles, texture changes, and skin that doesn't bounce back as it once did.
Numerous skin care products incorporate synthetic peptides to provide anti-aging effects, including reducing the appearance of fine lines and wrinkles, improving skin texture, and increasing skin firmness. And as you can probably guess, Matrixyl 3000 is one of these peptides.
What is Matrixyl 3000?
Two peptides work synergistically to restore and maintain the skin's youthful appearance by signaling to cells to produce more collagen. Numerous studies have proven the anti-aging and anti-wrinkle efficacy of Matrixyl 3000.
What is It?
Your ultimate skin care must have of course!! A hydrating and anti-aging serum for all skin types. "Like the fountain of youth bottled."
What will it do?
This super charged serum containing Hyaluronic Acid & Matrixyl work together in harmony to increase firmness of the skin, minimise fine lines and wrinkles, plump & hydrate, correct uneven skin tone, reduce the appearance of age spots all whilst soothing and moisturising the skin. AMAZING!
Why is it different?
The INGREDIENTS! Our serum not only contains the holy grail ingredient hyaluronic acid which of course on its own provides powerful results, but also acts as a delivery system for our second main ingredient Matrixyl which helps to penetrate the serum deeper beneath the skin's surface, delivering a healthy, glowing skin.
How do you use it?
The Ella & Jo HYDRATING HYALURONIC SERUM is designed to be worn morning & night. Apply under SPF in the morning and pre night cream or night oil before bed. We would recommend using the serum in conjunction with our Ella & Jo 3 in 1 Hyaluronic Skin Mist – spritzing throughout the day to ensure you have the most hydrated & plump skin possible!
Available Online & Stockist Nationwide for €40.00!