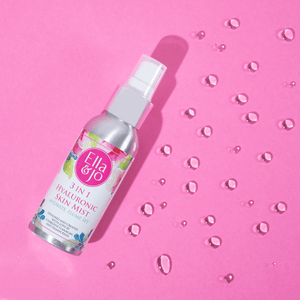 Sea Swimming & your Skin.
Sea swimming is so good for the soul, everyone and her mother have ventured into the sea over the last year and with more converts everyday it is high time (see what I did there) that we talk about protecting your skin in the water & how to make sure it stays in peak condition as you take on the life changing experience that is a daily dip.
Sea water and its properties are incredible for the mind, body and soul but can sometimes alter the balance of your microbiome & leave your skin looking and feeling dehydrated. The good stuff - it contains incredible beneficial minerals such as sodium, chloride, sulphate, magnesium and calcium - the incredible properties in sea water are super for healing the skin especially for conditions such as eczema, psoriasis, and dermatitis. Seaweed also has some amazing restorative and moisturising benefits for the skin as well as containing magnesium which is brilliant for aiding sleep & for muscle relaxation.
On the downside sea swimming can dehydrate the skin and have an effect on your own microbiome as the bacteria that naturally lives in the water is different to the naturally occuring bacteria on your face which can cause swimmers rash. The good news is that we can take lots of steps to protect our skin as we enjoy all of the benefits. Some top tips;
1) Protect your skin pre dip with an emollient. Emollients are moisturising treatments applied directly to the skin to soothe and hydrate it. They cover the skin with a protective film to trap in moisture. Some of my favourites for the face
Avène Xera Calm A.D. Lipid-Replenishing Balm Moisturiser for Dry, Itchy Skin €23 from leading Avene stockist nationwide
For the body Bioderma Atoderm Creme Pump 200Ml €13, La Roche-Posay Lipikar Baume 200Ml €12 you can also use a hydrating facial spritz or hydrating serum pre emollient to lock in some extra hydration.
2) Clean your skin post dip with something hydrating - use a Cleanse off Mitt and a cleansing balm or creamy cleanser such as Skiningredients Prebiotic cleanser to clean the excess water, salt & emollient from your skin post dip.
3) Hydrate Hydrate Hydrate - spritz your favourite facial mist, add a hydrating serum & a moisturising SPF my favourites are our Ella & Jo 3 in 1 Skin Mist & Our Hydrating Hyaluronic Serum - my favourite SPF for oily skin is Images Matt Prevention plus and for drier skin Skiningredients Skin Shield
4) At night add an extra layer to your routine such as a ceramide at night like Skin Good Fats from Skiningredients or Dermalogicas Barrier Repair Cream
Picture perfect skin that is well protected and hydrated and ready for a sea swim what ever the weather. All products mentioned are available from leading pharmacies nationwide.
Niamh Ryan
CIBTAC ADVANCED SKIN SCIENCE | EXPERT SKIN THERAPIST | SALON OWNER & CO - FOUNDER ELLA & JO COSMETICS