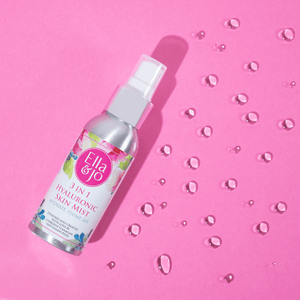 Summer Skin
Skin care Tips for Summer Sun Relief
If you have enjoyed yourself in the sun this Summer, you may be looking for some skin care tips to care for sunburnt or dehydrated skin.
As a skin care expert and co-creator of a skin care brand, I've seen how factors like sunburn and UV damage can affect the rate of aging and the overall appearance of the skin. We recommend a few acts of care to prevent long-term damage and dehydrated skin.
In this blog, we will discuss some of the summer skin care tips to protect your skin and help give your skin some much-needed hydration and TLC.
The first consideration you must give to sunburnt skin is that it has become dehydrated, damaged & dry. You will want to start treating the skin with a routine of intense hydration to reduce damage caused by the Sun's UV rays. Add in some extra water-based Hydration and Aloe Vera or after sun while the skin is hot to touch.
If skin feels parched, multiple applications of hydration products throughout the day will help to give the TLC it needs.
To combat sunburnt and dehydrated skin, you will benefit from focusing on hydrating from the inside out by drinking plenty of water.
Remember always wear an SPF daily & apply it frequently throughout the day especially when exposed to the sun
If you are looking to supercharge hydration, and improve the overall quality of your skin you should look to include to apply some key ingredients.
Ingredients like hyaluronic serum, niacinamide, and ceramides are super at helping skin to recover.
We've curated a range of products using expert ingredients that are sure to improve the overall condition of your skin.
The Skin mist contains Hydrating and Calming ingredients such as Hyaluronic acid, Aloe Vera, and Chamomile so it is ideal for sun recovery and dehydrated skin. Test the misting action on a small area of skin. If the skin feels too tender mist the product onto cotton pads and apply with light pressure to the skin lifting and moving the pads.
Once the skin is not too tender or hot you can do some mini at-home treatments - by using our 3in1 Skin Mist all over your face.
The Hyaluronic Serum can be applied after the mist to improve collagen levels whilst soothing and moisturizing the skin which is perfect for aiding the recovery of damaged skin.
After misting the skin apply your
Hydrating Hyaluronic Serum
which you can use up to 2 to 3 times a day - watch how quickly it absorbs and use a Hydration mask to help restore lost hydration to the skin
I've made sure to abide by the above skin care tips in order to keep my skin nourished and moisturised after sun exposure.
If you are looking to upgrade your skincare routine, make sure to see our essentials bundles which includes all products mentioned above including our make up removing cleansing balm.
Niamh Ryan
Skin Expert & Co-Creator of Ella & Jo Cosmetics