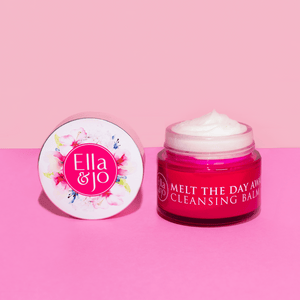 Double Cleansing Will Change Your Life!
Do we really need to double cleanse?
There is something that always sticks with me from when I was doing my skincare module in college – "you wouldn't mop a floor that hasn't been brushed" and this referred to double cleansing the skin. Now, it's not the prettiest of analogies but it gets the point across!
Ensuring that your skin is thoroughly cleansed should be your top priority. Your entire skincare routine rests on this one step. You may not be able to see it, but oils, pollutants, topical creams, sunscreen, and anything else your skin comes in contact with throughout the day needs to be removed.
For makeup lovers, the first cleanse will break down and remove makeup, preparing your skin for the second. This will deeply cleanse and prepare your skin to absorb any other skincare products applied such as toner, serum, or moisturiser.
The 'Melt the Day Away' Cleansing Balm is a luxurious balm to oil cleanser, the ultimate night time treat that cleanses, hydrates and nourishes your skin for a bedtime ritual to Melt The Day Away. Apply to dry skin, use fingertips to massage the over face and eyes. Remove using a soft damp cloth.
Double cleansing doesn't mean you need to spend an age doing your skin routine so I'm going to talk you through some simple tips to get the job done quickly and efficiently.
On the days that you wear makeup, I recommend using an oil-based cleanser when you first wash your face. Have you tried our new Melt the Day Away Cleansing Balm? This cleanser will melt away your face and eye makeup that Gently dissolves dirt and oil from the skin with a warm damp cloth. The Cleanse-Off Mitt by the Skin Nerd is a favourite product of ours to use in your cleansing routine.
Now that the first cleanse has removed anything on the skin, the double cleanse will clean the skin itself. You can use this opportunity to get some extra ingredients into the skin.
Products like Salicylic acid in a cleanser works great for people with oily skin, however, if you haven't done a pre-cleanse, the salicylic acid will have trouble getting through the oils remaining on your face. This goes for every skin type and every cleanser, they each serve a purpose and without doing your first cleanse, they can't do their job properly.
We want to take every opportunity to get you towards your skin goals. For example, if your main concern is hydration you should use a hydrating cleanser as your second cleanse, if your main concern is fine lines and wrinkles you should be choosing a cleanser that has something active or plumping in it like Images Ageless cleanser or Image Max Cleanser; for those that want brightness and to protect the skins barrier a cleanser like Skingredients ProBiotic is ideal.
It may sound like doing a double cleanse is going to take you half the day/night, but it really isn't the case! Every time you wash your face, you'll be using product more efficiently and treating your skin in the best way you know how.