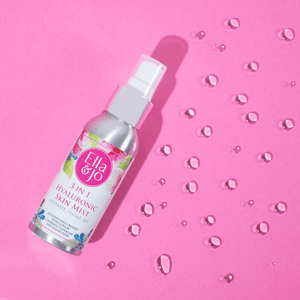 Face Mist or Setting Spray? All your Questions Answered!
Some of the most frequently asked questions I get are 'What is a face mist? Is a face mist the same as setting spray? What is the difference?'. So many people are buying these products and using them incorrectly or not knowing how to use them at all. Today is the day we answer all your question!!
The main purpose of a face or skin mist is to give any skin type a boost of hydration. A hydrating face mist is a liquid that you spritz onto your face, usually through a spray bottle. Most face mists are packed full of soothing and hydrating ingredients such as hyaluronic acid, Vitamin C, and Aloe Vera, not just fancy water! Face mists are amazing at refreshing and plumping the skin and giving your look a little pick me up and a dewy glow. Use it under makeup to soothe and hydrate or to give your makeup look a little dewy boost throughout the day.
A setting spray is a cosmetic product rather than a skincare product like the facial mist. It is used as the final step of your makeup application, a topcoat. It can be so disheartening when you spend time flawlessly applying your makeup, only for it to fade throughout the day. This is where your setting spray comes in. It is designed to set your makeup in place and reduce touch-ups throughout the day.
The main difference is setting sprays focus on prolonging your makeup while a face mist focus on hydrating the skin. A face mist will not keep your makeup in place longer but using one under your makeup can prepare the skin for a flawless makeup look. Skin that is hydrated will look plumper and reduce the appearance of fine lines.
Both are essential items in any makeup kit, and I know you will feel the same after you try them.