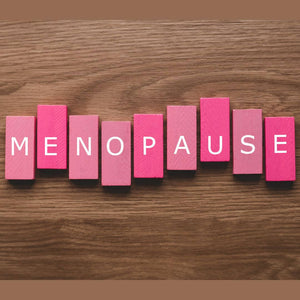 Menopausal Skincare
What happens to your skin that causes your routine to need tweaking when you hit peri menopause or menopause?
As Oestrogen decreases in the body it causes a drying affect that can cause symptoms such as dry, tight and flaky skin, increased redness, irritation and sensitivity. As with all changes to the skin we can look to help the symptoms internally – using supplements and topically using the right skincare products. 
It is a big change for all women and our skin is front and center to the change for some women changes can be minor and for some the face creams, routines and products they have used for years are no longer suiting them.
The first step for me is to access what symptoms you are having and then to scale them out of 10 in terms of how much they are affecting you and your confidence. Redness might be 3 for one lady and 8 for another. Different ingredients bring relief for different symptoms and I will talk through the most common symptoms now. 
Redness – this can be caused by internal flushing and heat but also but increased sensitivity in the skin – here we would recommend a probiotic and to include calming ingredients into the skin such as niacinamide, chamomile, aloe vera, or an oat based mask. You might find that certain foods or wine, caffeine and home heating can irritate the redness. Cold compresses are also really helpful here. Gentleness as we try to reduce the redness while maintaining the skins barrier here is essential. From our range – Our Hydrating Hyaluronic Serum and   3 in 1 Skin Mist will help to reduce the redness and heat caused by this symptom. 
Dryness – this is a very common symptom where plump, hydrated skin feels tighter and more crepe. Here hydration internally and externally is key as is protecting the skins barrier and retaining as much moisture as possible. Internally an Omega or Evening Primrose Oil is an excellent option. You can add in some extra hydration to the skin by using a hyaluronic serum then locking in that hydration with a richer nightcream such as our relax and renew – this gives your skin the best chance to repair at night. Again in the am adding a day cream that locks in your moisture post a hydrating hyaluronic serum – our plump and protect contains ceramides which help to lock in moisture and also protect the skins natural barrier function. It also contains SPF which will protect the skin from photo and UV damage throughout the day. Another way to add some nourishment to your dry skin is to start cleansing with a balm – this will condition and hydrate the skin as well as Melting your Day Away it can also be used as a micro mask for 3-4 times a week. 
Sensitivity – the skin can become more irritated, red and start flaring with underlying spots. This is a hormonal reaction and can be managed with careful observation. Some skins will react to foundations and bases you have been using for years so anything that is applied to the skin needs to be observed to see if it still suits the skin. Here less is more – a daily routine using gentle ingredients – start first with our melt the day away cleansing balm morning and night and our hydrating hyaluronic serum morning and night and then gradually introduce our relax and renew night cream then our SPF 30 day cream plump and protect.
It is a time of big change for so many and we want to help women keep their skin confidence as much as they can, always reach out to us if you have an questions about any of the above. We would love to hear what has worked for you and to help you keep loving the skin your in.