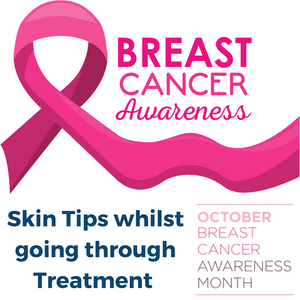 Breast Cancer Awareness - Skin tips while getting treatment
Award winning Irish Skincare brand - Ella & Jo turns 4 years old this month. The brain child of Charlene Flanagan Make Up and Niamh Ryan Skin the brand continues to go from strength to strength putting Irish women at the center of their skincare creations. Every product is multi functional and packed full of skin loving ingredients for us busy Irish women.
It is a stark reality of the hardship of chemo and treatment for breast cancer that the skin suffers from dryness, dehydration and flakiness. The team have been sent so many testimonials over the years from women undergoing treatment for breast cancer who have been gifted or are using the 3 in 1 Skin Mist, Hydrating Hyaluronic Serum and now the Melt the Day Away Cleansing Balm and are getting great relief from them.
Even in the middle of undergoing such a tough journey the everyday things need to be done & Charlene & Niamh consider it such an honour that women who are going through so much are getting some comfort from the products they have created.
The current range of products available from Ella & Jo is an incredible collection to bring some joy back into your skincare routine - with a little bit of time for you. With hero products like the Hyaluronic mist, to beauty hacks like getting the most out of your products with the squeaky-clean brush cleaner. Already the recipient of multiple accolades, from Hi Style, RSVP, and Stellar Beauty Heroes to name a few, this is only the beginning for Ella & Jo
Skincare when undergoing treatment;
Hydration is key inside and out - look for rich serums, creams and oils to nourish the skin - Hyaluronic acid, Rosehip Oil, Shea Butter - for face, hands and feet
Less is more - stay away from very active products for now - avoid over exfoliation or using high levels of vitamin A - its advisable to get a skin consult with a therapist who has experience in cancer care
Patch test - as the body is under going treatment it is advisable to patch test any new products at the back of your ear at least 24 hour before using them
Avoid products that are overly scented as they might cause nauseousness or irritation
Hydrating masks are a brilliant way of getting some TLC in when your in the mood and will help to lift and brighten your skin and mood
Feel Good Feel Better are an incredible resource for women when under going treatment and will help build your confidence with your skincare and make up
Melt the Day Away Cleansing Balm 100ml RRP - €36
A beautiful balm to oil cleanser that melts make up, dirt, debris and the stress of the day away.
This is a super hydrating and nourishing cleanser that can also be used as a mask
Its super luxurious feel and spa like scent make you look forward to taking your day off
Leaves skin feeling Fresh, Smooth, Plump and Hydrated.
Suitable for all skin types.
Safe for use during pregnancy - Suitable for use when undergoing treatment
Vegan Friendly
Squeaky clean makeup brush cleanser 200ml RRP - €20
3 Ingredients to clean, antibacterialise and condition your makeup brushes - no harsh chemicals on your skin or brushes
Cosmetically graded Isopropyl Alcohol & Vegan Friendly
3 in 1 hyaluronic skin mist original & orange 100ml RRP - €25
80% of people in Ireland have dehydrated skin. It's a skin condition that affects all skin types. Between your morning and evening skin routine there is a window where the skin loses hydration due to various factors which can cause premature ageing, tightness/flaking of the skin, makeup to appear patchy or the need to top up makeup.
3in1 Skin Mist contains super hydrating ingredients including Hyaluronic Acid, Chamomile, Cucumber, Aloe Vera, Witch hazel & Green Tea.
Can be spritzed on to bare skin as part of skincare or pre-makeup routines, after/throughout makeup routines to set makeup & powders and most importantly throughout the day for a quick and easy "Glow on the Go" Safe for use during pregnancy, cancer treatments. • Vegan Friendly.
Suitable to use when undergoing treatment
Hydrating hyaluronic serum 50ml RRP - €40
This wrinkle busting supercharged serum is truly results driven
Redness is a common trait in Irish skin, Niacinamide (Vit B3) helps to improve uneven skin tone reduces the impact of environmental damage & plays a role in helping skin to repair signs of past damage.
Its lightweight feel & fast absorption rate makes it the perfect companion underneath makeup.
Leaves skin feeling Radiant, Fresh, Smooth, Plump, Hydrated.
Suitable for all skin types.
Safe for use during pregnancy - Suitable for use when undergoing treatment
Vegan Friendly