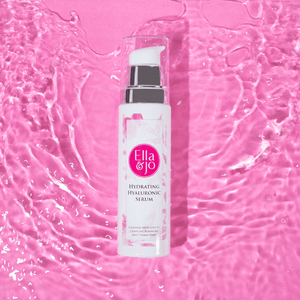 5 Top Tips for Autumn/Winter Skin
5 Top Tips for Autumn/Winter Skin
Help your skin make the transition into the cooler temperatures this Autumn Winter with 5 top tips from Ella & Jo Cosmetics
It's not a trend to change your skincare routine for autumn/winter its crucial for maintaining healthy happy skin all year round, but as the old saying goes, if it's not broke don't fix it, these tips are for those who struggle with the season transition.
Cold weather & central heating can take a lot of moisture out of the skin and you may feel your skin get tighter, flakier and even sensitive so it's important to incorporate super hydrating products into your skincare routine. Ditch the face wipes and use a gentle moisturising cleanser suited to your skin type, we suggest Skingredients Preprobiotic Cleanser for the win.
Invest in a hydrating face mist such as our own 3in1 Hyaluronic Skin Mist which you spritz throughout the day to relieve tightness, instantly hydrate & it can even be used over makeup to plump out fine lines and wrinkles that may appear more emphasised. Double up morning and evening with our four tier peptide infused Hydrating Hyaluronic Serum for toning, anti-aging, repair & soothing.
A good moisturiser is one of the most vital parts of a winter skincare regime as it replenishes the skin with lipids (your skins natural fats) an essential ingredient for a healthy skin barrier. When choosing a moisturiser, look for ingredients such as vitamin E as it is rich in antioxidants, which help to defend the skin against harmful environmental aggressors such as pollution. This also will help lock in the hydration so use in conjunction with your 3in1 Hyaluronic Skin Mist or Hydrating Hyaluronic Serum morning and evening. We recommend Skingredients Skin Good Fats or Dermalogica Barrier Repair.
With the cold, dry winter season, the presence of chapped lips tends to increase. The dry air indoors, wind and rough weather outside contribute. We recommend you take care of your lips the way you take care of your face. Apply a lip balm or moisturiser daily, preferably one with an SPF if you are outdoors a lot. Look for lip balms that have Almond Oil or Vitamin E as both are hydrating, healing & anti-inflammatory. We recommend IMAGE prevention daily defense lip enhancer spf 15 or NUXE Reve de Miel Honey Balm
Protecting the skin from UV damage is a year-round commitment. Unfortunately, UV rays don't go to Oz on their holidays for winter. Ultraviolet A (UVA) rays can penetrate the skin much deeper than UVB rays, and are responsible for signs of aging (like dark spots and wrinkles). They also can initiate skin cancers. UVA rays can penetrate glass and clouds. and with screen time higher than ever the HEV light (blue light) is aging your skin while you scroll (yes even while you're reading this). So although it seems unfair that we have no sunshine to reward us it's very important not to ditch the sunscreen during winter months. We recommend IMAGE Prevention SPF & Skingredients Skin Shield SPF
Exfoliating your skin helps in getting rid of dead skin cells. But, you have to be careful during winter months due to your natural skin barrier already being compromised due to the dry and cold weather. Exfoliating your skin once a week is fine, it helps with skin cell regeneration and better product absorption. Also, you should exfoliate depending on your skin type. If you have very dry skin, exfoliate your skin lightly. If you have combination and oily skin, once a week is fine. We recommend Dermalogica Daily Microfoliant & Declare Gentle Peeling.
We hope you enjoy our Autume/Winter Skincare Tips for more information please contact info@ellaandjo.ie
Charlene x