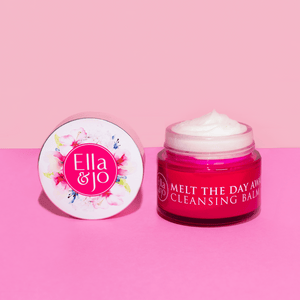 Introducing Ella & Jo's newest release - Melt The Day Away Cleansing Balm
A luxurious balm to oil cleanser, the ultimate night time treat that cleanses, hydrates and nourishes your skin for a bedtime ritual to Melt The Day Away.

With our busy lives we are all looking for moments of calm, relaxation and self care that doesn't take forever. Melt The Day Away is a self care ritual cleansing balm that is designed to help you relax, unwind & become more mindful of letting your day go while also cleansing, nourishing & hydrating your skin.

Have you ever stopped to think about how many natural and manmade elements your skin comes into contact with throughout your day?
Makeup, SPF, Dirt, Oil, Pollution. Melt The Day Away cleansing balm is a luxuriously soft balm to oil cleanser that gently dissolves makeup and impurities. Enriched with nourishing, lightweight, hydrating and anti-oxidant ingredients to suit all skin types to end your day with some TLC. This cleansing balm is super nourishment for your skin and your mind.

Packed full of supercharged antioxidant ingredients;
Raspberry Seed Oil – hydrates, nourishes, protects against free radicals, antioxidant rich and leaves skin feeling silky smooth
Squalane – lightweight, moisturising, non-comedogenic and balancing for all skin types
Grapeseed, Sunflower and Coconut Oil – Vitamin enriched ingredients with skin loving omegas.

What does it do?
A luxuriously soft face and eye makeup remover that transforms from a balm to an oil for gentle and easy removal of even the toughest makeup. Gently dissolves and removes face and eye makeup, dirt and oil from the skin.

When do you use it?
As part of your evening routine as a cleanser or use as a mini mask leaving it on the skin for 10 minutes for extra hydration & conditioning.

How to use it?
Apply to dry skin, use fingertips to massage the over face and eyes. Remove using a soft damp cloth.

How does it make you feel when using it?
Like you are melting the day away – a night time ritual to help wind down
and start your skincare routine

How does it leave your skin feeling after using?
Soft, Clean, Nourished, Hydrated
Which of the 5 Senses does it stimulate?
See – Dissolves and breaks down makeup easily and effortlessly
Feel – Transforms from a balm to an oil – feeling luxuriously soft on the skin and your skin feels super nourished
Smell - Delicately scented with notes of Fresh Lavender, Geranium, Rose and Mint refreshed by Citrus Orange.

Why should you use it /Why is it different?
It's not just skincare, its self-care, Our Cleansing Balm heightens your senses and immerses your skin in the luxurious balm to oil texture and spa like aroma. Your skincare routine is a moment for you, for self-care/meditation. Whilst cleansing take the opportunity to take a few deep breaths taking in the delicate scents of Fresh

Lavender, Geranium, Rose Mint and Citrus Orange all carefully combined to help you Melt The Day Away and start your night time ritual for a great night's sleep and wake up with your skin feeling nourished and hydrated.
We always want to do our best for mother nature;

Take 60 seconds for you

Take a moment, light your candle, pop on some relaxing music & melt your day away - Smell the Lavender, Geranium, Rose, Mint and Orange, Feel the luxurious raspberry seed oil move over your skin as the balm dissolves the grit & grime of the day, See the balm turn to oil as you apply your damp facecloth & feel the worries of the day wash away.

Melt The Day Away Cleansing Balm 100ML - €36.00
AVAILABLE TO PURCHASE AT WWW.ELLAANDJO.IE