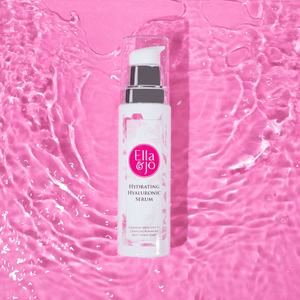 Hyaluronic Acid for Skin & Hyaluronic Acid Benefits
Hyaluronic Acid in Skincare
Hyaluronic acid is an acid that occurs naturally in the human body. It's part of the skin's connective tissue matrix, where it helps to keep the skin plump and hydrated.
This information on Hyaluronic acid was first reported by Dr. Frederic Brandt, who devoted his career to understanding its key cosmetic attributes and its effects on the skin. Dr. Frederic Brandt discovered that Hyaluronic acid has a very special quality that was new to science: Hyaluronic acid attracts and holds huge amounts of water, as much as 1,000 times its weight. It's said to hold more water than any other natural substance found in the body.
Because of this ability to help retain moisture, it's used regularly in skin care products. Hyaluronic acid is found naturally in the body but has great skin benefits when applied in topical form like a skin mist or skin serum.  Hyaluronic acid is commonly used to fight the signs of aging as it helps the skin to stimulate the production of collagen. Almost all aging signs come from the breakdown of collagen, which leads to loss of elasticity and firmness.
In today's skincare market, Hyaluronic acid is a very popular ingredient in anti-aging products, from moisturizers to serums that act as a skin plumper and add moisture to the skin which will plump up fine lines and wrinkles.
Hyaluronic Acid on the skin 
Hyaluronic acid is highly compatible with the human body and can be easily absorbed by the skin. It's also non-comedogenic and won't clog up pores, meaning it's perfect for all skin types including people with oily or problem-prone skin. 
One important thing to note is that Hyaluronic acid must be completely pure and  100% hyaluronic acid (also known as Sodium Hyaluronate). We are often tricked into buying products with the word 'Hyaluronic' in the title but find out it only contains minuscule amounts of actual Hyaluronic acid. Ella & Jo Products have been made with you in mind and are created with 100% Hyaluronic Acid as well as a list of supercharged ingredients to make sure you're getting the full benefits and results.
Hyaluronic Acid Benefits
Some other benefits of Hyaluronic Acid include: 
- Firming the skin and keeping skin hydrated
- Helping with cell turnover
- Fighting signs of aging
- Promoting Healthier more supple skin.
How to use hyaluronic acid for the skin? 
Hyaluronic acid can be worked into your skincare routine both morning and night to help you see results. Apply the Hyaluronic Skin Mist 2-3 times a day (or as needed) to moisturize your skin and lock in that moisture. It's also great for setting makeup for all-day wear. The Hyaluronic acid serum can be applied morning and night and can be paired with the 3in1 skin mist to keep skin hydrated and supple throughout the day.
Hyaluronic Acid for different skin types
Hyaluronic acid is a great ingredient to add to your skincare repertoire to help enhance all skin types. We've detailed a few skin types below but if you would like to determine your skin type and which products would be best for you, why not try the
Ella & Jo skincare quiz? 
Hyaluronic Acid Pregnant & Breast-Feeding Women  
You can use Ella & Jo's 3in1 Skin Mist with Hyaluronic acid & Hydrating Hyaluronic serum during pregnancy.                                                                   Being a female-led company, we felt it was important to create products suitable for everyone, especially pregnant and breastfeeding women.
Pregnancy can play a toll on our skin and increased levels of progesterone can  cause the skin to break out and produce excess oil. Pregnant women's skin may benefit from using "3in1 Hyaluronic Skin Mist" as it contains ingredients like green tea, witch hazel, and chamomile which help fight bacteria, calm the skin, and control oil. 
Hyaluronic acid for Oily Skin
Hyaluronic acid has an interesting effect on skin that is struggling with oiliness. It helps to control the amount of sebum that's released by your sebaceous glands and therefore, can help regulate and maintain a healthy pH balance.' Perfect for keeping healthy and hydrated skin. 
Hyaluronic acid for Dry Skin
Hyaluronic acid helps to bind water in the skin when applied topically. The Hyaluronic acid serum is perfect for keeping dry patches at bay and leaves your skin feeling hydrated, soft, and supple all day long.
Hyaluronic acid for Aging Skin
As we get older, the body slows down the production of Hyaluronic acid. This is why it's so important to topically apply Hyaluronic acid in skin care products to fight aging signs like fine lines and wrinkles.
Looking to add hyaluronic acid to your skincare regime?
The Ella and Jo 'Hydrating Hyaluronic Serum' was voted the best hyaluronic serum by Best Beauty Buys by Hi Style in 2021 and the '3 in 1 Hyaluronic Skin Mist' was voted by RSVP - the 3in1 Hyaluronic Skin Mist as a product they would recommend.
Shop our full range of products
here.